About Sue
5th Generation Aussie and proud of my origins, and I've always had a contented working life.
One of five kids, yes the middle one.
I dabble in Australian Bush Poetry waiting to publish my favourite poems.
I contribute to community groups that believe our environment is worthy to be saved.I volunteer time to assist and care for the Little Penguins and their habitat in and around the bay.
My pet project is the St Kilda pier EARTHCARE ST KILDA INC.
I am also an active member of Koala Clancy Foundation.
"Susie is a tireless worker for Earthcare St Kilda and constantly provides good solutions to any problems. Susie is always on time and her sunny disposition is great to have in a team."
Zoe Hogg – Secretary Earthcare St Kilda
Earthcare St Kilda Inc.
PO BOx 287 Elwood 3184
www.earthcarestkilda.org.au
www.stkildapenguins.com.au
www.rakali.com

I also participate in tree planting around the St Kilda and Bayside area.
In the winter months I assist with the collection of Northern Pacific Sea Stars. This starfish is an invasive species and destructive to the welfare of our marine animals and sea bedding.
I love all animals and have two cats of my own called Pierre and Bella.
Of course I enjoy bush walking & exploring the great outdoors, and also avidly support a few charities.
I assist with the funding of wheelchair sports for kids and give time to the programming and planning of activities.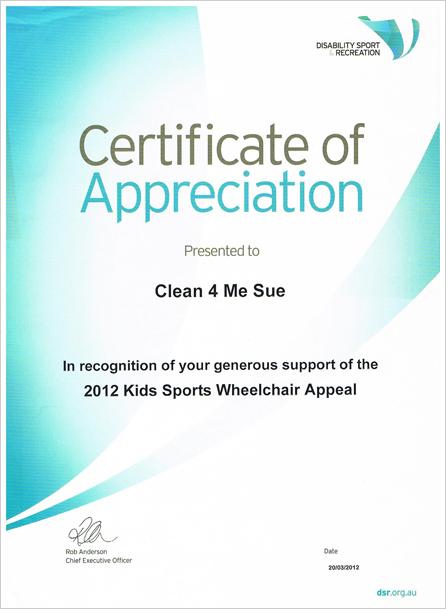 Testimonials

Sue always does an excellent and incredibly thorough job. Sue has been cleaning our pizza shop for the last 2 years. It is such a nice feeling
when you open the door and see spotless kitchen, clean windows and shining floor!
It's been a great pleasure to have sue work for us!
Thank you!

Rita, Bentleigh

We are extremely happy with the immaculate services provided by Clean 4 me Sue. We have known her for more than 7 years now she is not only cleaning our houses also my 2 sons' houses. Sue is flexible and trustworthy, always showing great attention to details and consideration. She also help look after our pets when we are away on holidays. It's been such a blessing to know Sue.

Michelle, Ormond

We were very impressed with the quality of work and performance of Clean 4 Me Sue. Susie's work is value for money and she was flexible and professional to work around other trades on the project to ensure the job was completed in time. We would not hesitate to recommend and consider Clean 4 Me Sue Cleaning Services on other projects in the future.

Craig, Elwood

Our company has recently employed the services of Clean 4 Me Sue. We are more than delighted with the standard of service provided and her attention to detail. Susie has a very high work ethic and nothing is a problem for Susie to solve. She is punctual, friendly and very efficient. Highly recommended!

Jenny, Malvern